The Teacher Tee Subscription is just for you!
The Creative Tech Coach's Teacher Tee subscription is the perfect solution for the overwhelmed teacher that wants a new tee (and maybe accessory) to rock on holidays, spirit days, or just for fun! The Teacher Tee subscription lets you get a new Teacher Tee delivered to you each month without the hassle of searching and shopping! That is one less thing on your busy teacher to-do list!
AND FOR A LIMITED TIME . . . new subscribers can try the Teacher Tee subscription for the month of December with no obligation. Just click the "Subscribe" button . . . don't save your credit card info. If you LOVE it, just email us to update your card info later and be added to the subscription! But hurry, because this offer is only good through November 10!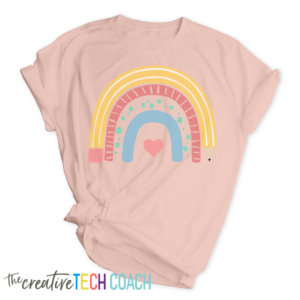 The Teacher Tee Subscription
The Teacher Tee subscription will give you a monthly delivery of one of my cute and comfy tees made of buttery soft fabrics in a comfortable fit.
Starting at $22/mo
plus $5 shipping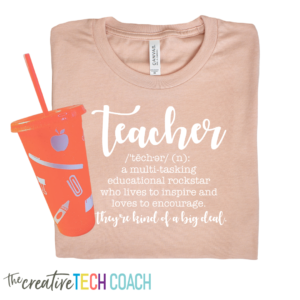 The Teacher Tee Plus Subscription
The Teacher Tee Plus subscription will also give you a monthly delivery of one of my cute and comfy tees, but will help you level up your teacher swagger with a fun SURPRISE accessory!
Starting at $35/mo
plus $8 shipping
Pick a subscription type: Teacher Tee or Teacher Tee + (and, plus more?). The Teacher Tee subscription is a t-shirt only subscription starting at $22 a month plus tax and $5 shipping*. The Teacher Tee + subscription is a t-shirt and surprise accessory (cup, earrings, lanyard, etc.) subscription starting at $35 a month plus tax and $8 shipping*. T-shirts are unisex sizing S-XXL so you can get the perfect fit!
Each month from the 1st to the 5th, you will have the opportunity to pick from 2 custom designs in the private Teacher Tee Subscription Facebook group. These designs will be for the events and/or holidays occurring in the next month (e.g. in February you will be choosing the design for the shirt you will wear in March). If you do not choose a design by the 5th, one will be picked for you.
Your order will be ready to ship between the 20th and 25th of the month so that you will have it prior to the next month. *Local South Carolina members will have the option of trunk pick-up in the Batesburg-Leesville area in lieu of shipping. Just choose Pick-Up instead of shipping at checkout.
Purchase your subscription using the SUBSCRIBE button above. You will be directed to a secure Square page to complete your purchase. Please check "Save my information for a faster checkout" so I can easily transfer your payment information to the subscription.
This is a monthly subscription. Upon purchase, you agree to the following terms of the subscription:
Your first charge will occur on the date you sign up. You will receive a receipt in your email confirming your initial purchase.
After your initial purchase, I will add you to the subscription. You will receive an additional email confirming your subscription. You can update your payment method if you did not save your information during your initial checkout. Your recurring charge will occur each month on the 1st starting the following month.
For example, if you sign up on June 17th you will be charged immediately. You will receive your first t-shirt in July. Your next charge will be on August 1st. Your credit card will then automatically be charged on the 1st of EVERY MONTH.
If you want to cancel your subscription, you need to do so at least 15 days before the billing date.