Over the past year in my role as a digital learning coach, I have noticed the way so many teachers adapted to teaching in the post-Covid classroom. For some of you, Google Classroom was a brand new platform that you had to learn and teach your students to use at the same time! For others of you, it was finding new ways to leverage "old" digital tools in a way to keep students motivated and engaged. But ALL of you were able to use tech to find ways to reach your students!
I believe that there aren't techie teachers and non-techie teachers; there are just those that aren't afraid to click and those that are. There are those that try again when things don't work the first time and those that give up!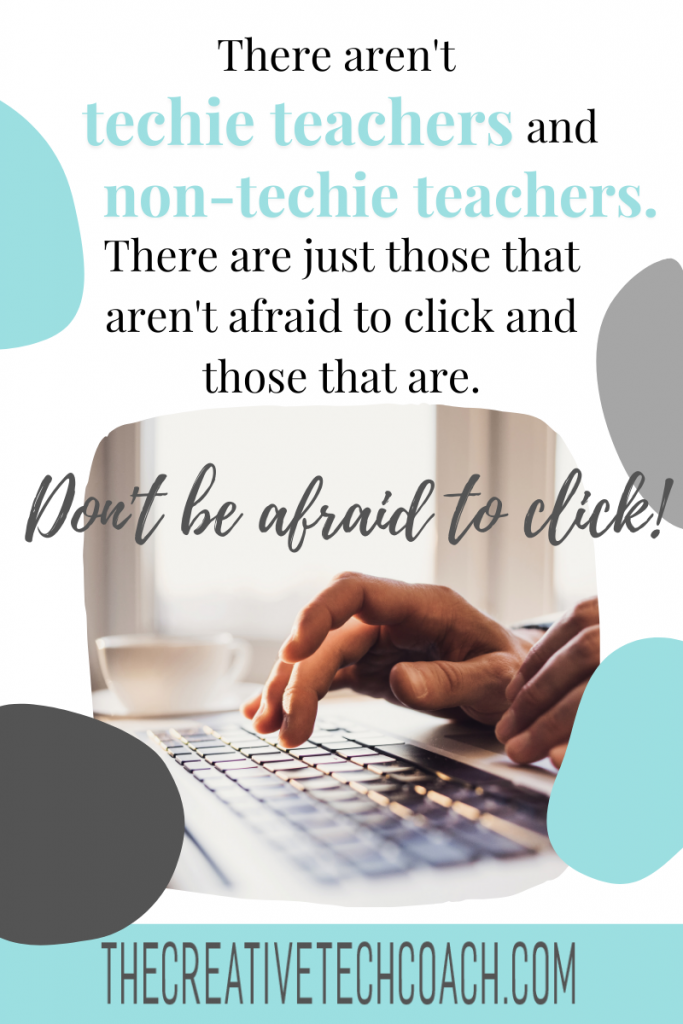 Most of the teachers in your school or district that you may consider "techie" probably didn't instantly know how to use the tech that has been shared with them over the years. They had to get into the platforms, play around, and try things out. For instance, most didn't start using Google Classroom seamlessly as soon as they were introduced to it. They most likely made a few mistakes along the way. They probably forgot to schedule the assignment, link the document, or shared to students the wrong way. But they didn't let that stop them! They kept trying—and in some cases, kept making mistakes—until they learned all the right steps!
That's the attitude all of us should adopt when it comes to tech! Don't be afraid to click! Don't worry about messing up! If you're scared . . . do it scared! Even when things don't work the way you hoped, keep trying! And what if this happens in front of students?! All the more reason to keep trying and demonstrating a growth mindset for them. Show them how we learn from mistakes and use what we learn to master a skill.
DO YOU NEED AN EXTRA PUSH TO MAKE THE FIRST CLICK?
With summer upon us, you have some time to rest and recharge, and to change your mindset about incorporating technology in your classroom! Are you ready to provide students a simple, streamlined digital workflow that organizes their work? Are you wanting for a stress-free way to communicate with students and foster digital classroom discussions? Are you searching for a quick, efficient way of getting students feedback on their work? Then Google Classroom might be the tool for YOU!!
I WANT TO HELP!!! 
I'm offering teachers just like you two options for Getting Started in Google Classroom: a self-paced course and a special LIVE course that will show you how to use Google Classroom as a student, 
help you will navigate Google Classroom as a teacher, 
and how to leverage all of the features to get you ready to use Classroom on day one!

LET'S DO THIS TOGETHER!!