Digital breakouts are an amazing way to gamify your classroom, get students engaged in content, and have them apply their knowledge in a variety of ways. "Breakouts" take the concept of escape rooms (you know those places that are popping up where you and your friends are willingly locked in a room and have to solve clues to escape it?) and helps you bring it to the classroom! Usually, students solve clues to unlock locks attached to a box to save the day, solve a problem, or just get the surprise inside!
However during our times of social distancing, physical breakouts are not quite as feasible. Students cannot crowd around the same materials all touching the same box and locks.
Enter DIGITAL BREAKOUTS!
Using Google Sites and Google Forms, digital breakouts create engaging, problem-solving scenarios where students can apply the content they've been learning in an authentic way just without all of the "stuff" that a traditional breakout entails. Students can still be given challenging, thought-provoking tasks, just in a digital format. Familiar digital tools like Google Drawings and Google Slides can be utilized to incorporate a variety of engaging tasks. And if students need to do some recording (think: math problems!!) or for a sense of online/offline balance, some printed materials can be used as well.
The first digital breakout I created was a few years ago for a middle school special ed teacher where her students had to save Thanksgiving! Well, its time for a reboot . . . 2020 style!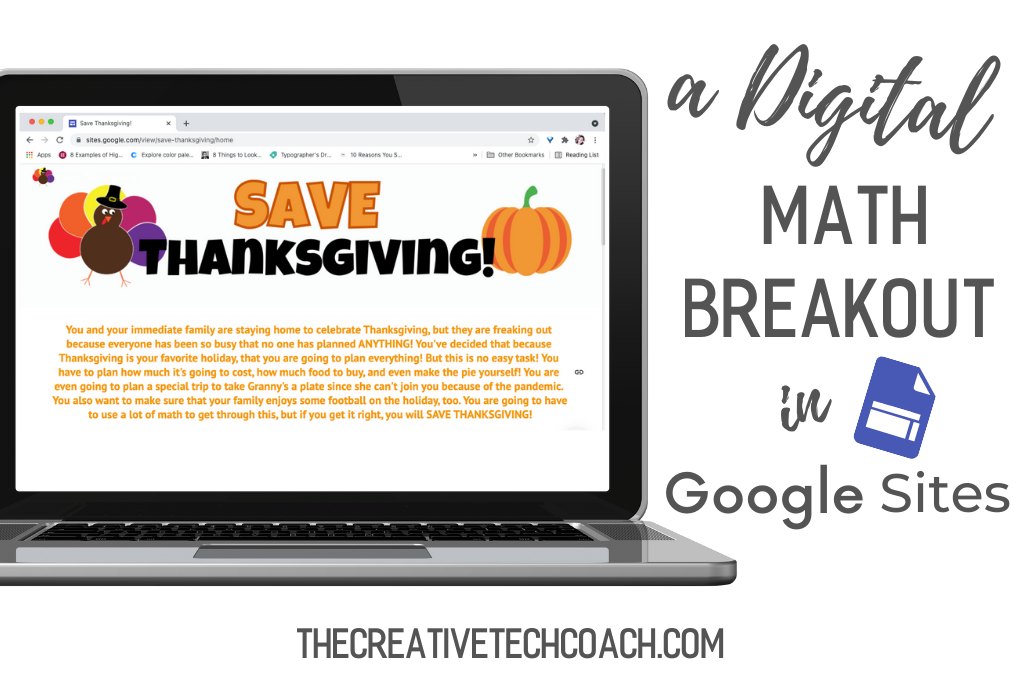 I adapted the breakout for 5th grade math (CCSS aligned) and for how we may be celebrating Thanksgiving a little differently this year. This digital breakout is still housed in Google Sites using Google Forms for the "codes" to save the day. Activities range from adding, subtracting, multiplying, and dividing decimals and multiplying fractions to conversions of liquid measurement and finding the area of a rectangle. There's also some interpreting numerical expressions thrown in at the end!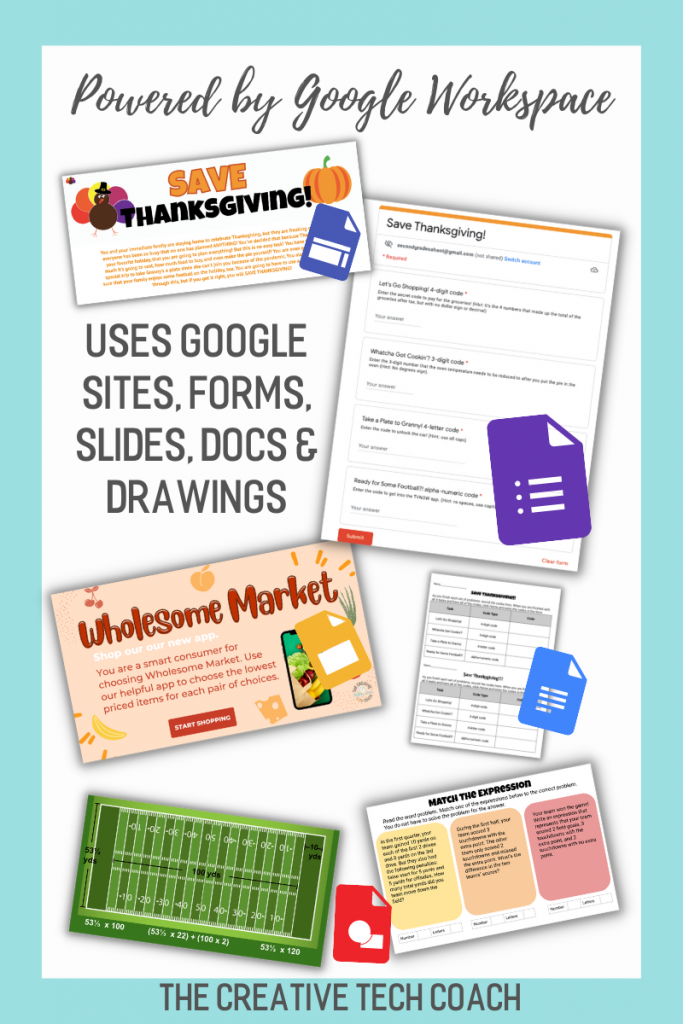 And because digital doesn't mean better, especially with math, students use a balance of digital tools and paper-based activities to solve these math challenges.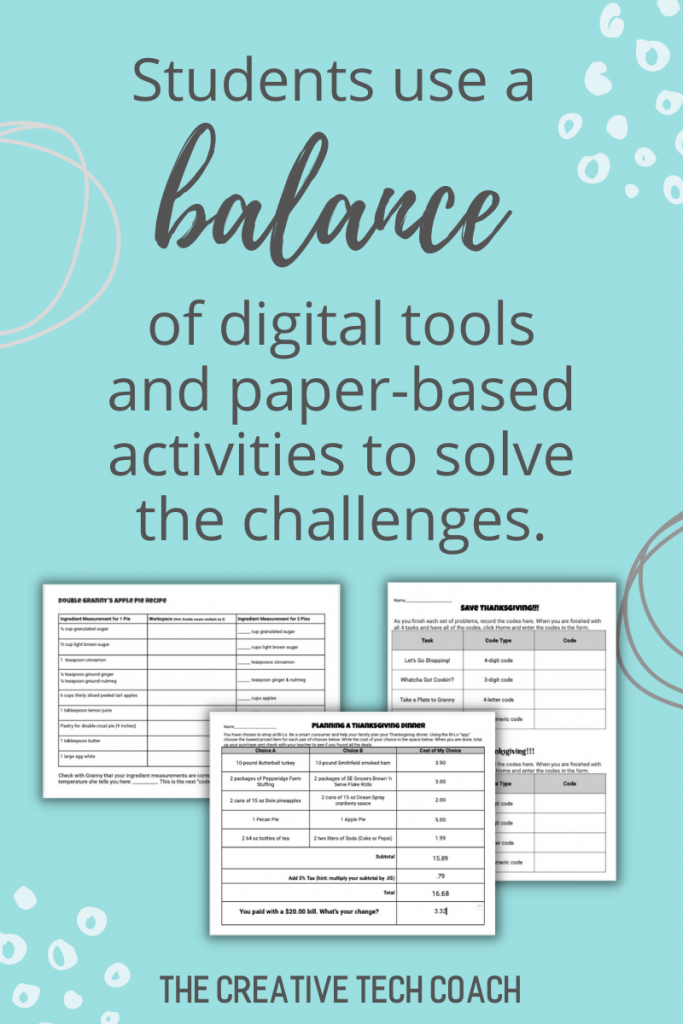 Advantages of Digital Breakouts:
What are the advantages of digital breakouts over physical breakouts?
⇒No Boxes or Locks! You don't have to worry about how many boxes to have or setting/resetting combinations on multiple locks.
⇒Engages students! Digital breakouts are highly engaging and a perfect for reviewing or introducing content, as well as taking students through complex processes.
‍⇒Helps build 21st-century learners! Through a combination of a variety of digital activities, students are given the opportunity to access, evaluate, and create using digital tools.
⇒Can use with Chromebooks, laptops, computers, tablets, or other mobile devices
Click the image below to check out the complete Save Thanksgiving! digital math breakout in Google Sites!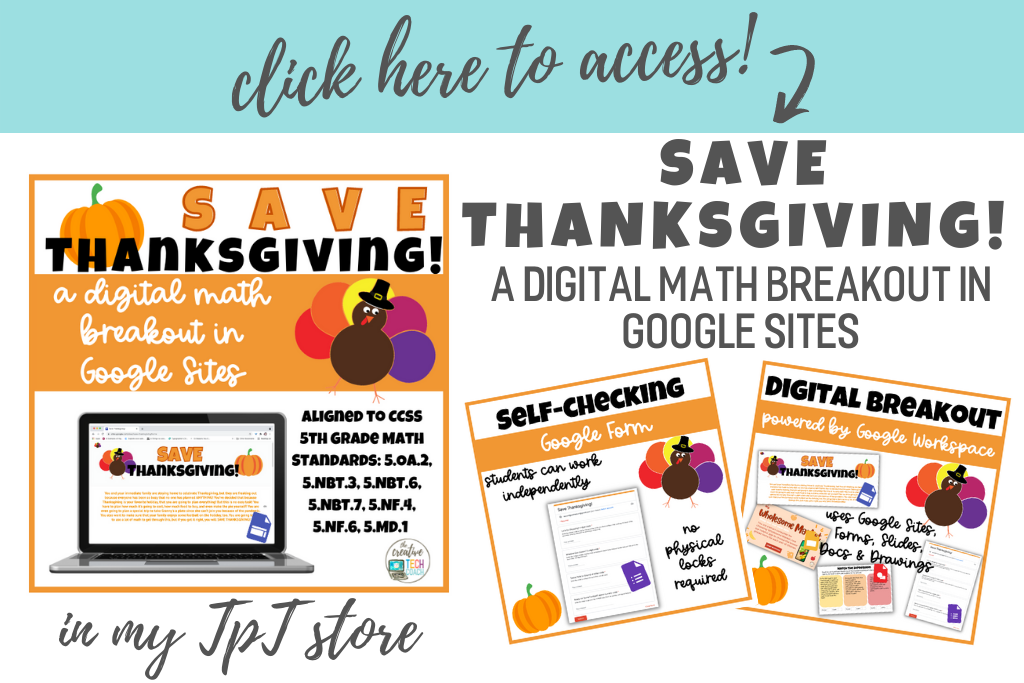 If you are interested in creating your own digital breakouts, there are a few different approaches. If you are a Google District, Google Sites is a great place to house the breakout as it conveniently integrates with Drive and can create many of your activities in Docs, Slides, Drawings, and Forms.
If you want to go a more simple route, you can create the digital breakout solely in a Google Form using a non-linear Form with response validations.