Why is mindfulness important? Finding a balance between the perks and challenges of today's digital environment can be taxing, but it doesn't have to be! Read on to see how using mindfulness mediation apps can help you and your students!
Mindfulness meditation apps can help support both students and teachers!
Technology in the classroom certainly has its perks! We can easily collaborate with our peers and seamlessly assign lessons, activities, and projects to students who can send it back to us for almost immediate feedback. Students have at their fingertips a wealth of information on the internet and amazing tools to create a variety of products to provide evidence of their learning.
But with these amazing perks, also comes some challenges. One of these challenges is to find a balance so that we are using our technology with intention and not causing screen fatigue in ourselves and students. Furthermore, in the aftermath of a world-wide pandemic, the stresses of everyday life, and even life-changing, extraordinary circumstances that can touch the lives of our students and us, it is important that we all focus on the social-emotional needs of everyone in our classrooms, even ourselves!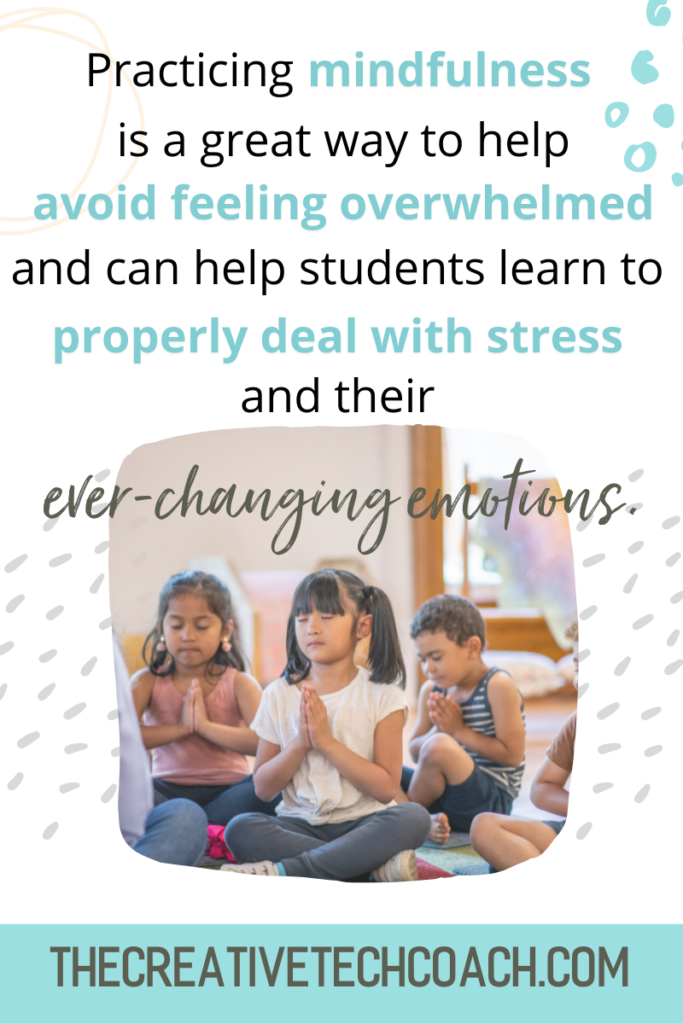 I'm not trying to get all "woo woo" on you, but one way to address the social-emotional needs of ourselves and our students is to engage in mindfulness practices. Practicing mindfulness in the classroom is a great way to help avoid feeling overwhelmed and can help students learn to properly deal with stress and their ever-changing emotions. According to Mindful.org, " Mindfulness is the basic human ability to be fully present, aware of where we are and what we're doing, and not overly reactive or overwhelmed by what's going on around us."
If you still aren't convinced, you don't just have to take my word for it. Studies have shown that mindfulness has many benefits including:
Increased focus, attention, self-control, classroom participation, compassion
Improved academic performance, ability to resolve conflict, overall well-being
Decreased levels of stress, depression, anxiety, disruptive behavior (mindful.org).
Incorporating mindfulness into your routine is not hard and will not take a lot of time. Here are a few tools that you can use to promote mindfulness in the classroom and in yourselves.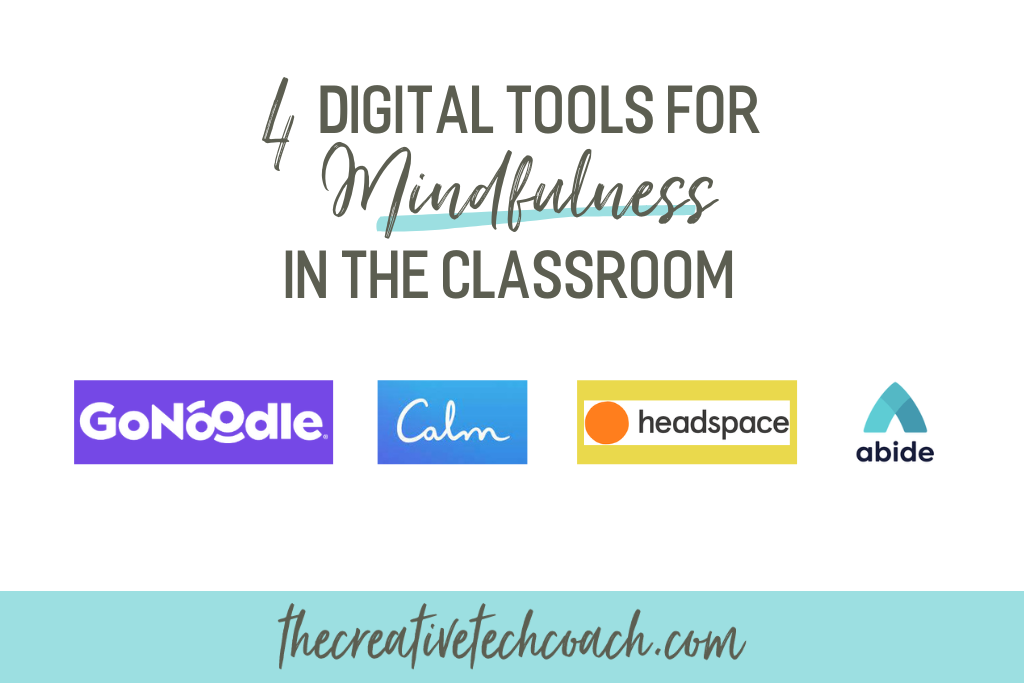 Mindfulness Tools for Younger Students
GoNoodle is a free website that has tons of great activities for promoting mindfulness, including the Flow Channel that is dedicated to the practice. They can be used as brain breaks, for transitions between activities, and to get kids moving around or even to simply calm down and breathe. Activities are only about three minutes long, so it's easy to incorporate into your daily routine. Go Noodle also provides guided video meditations for students in primary, elementary, and middle schools that incorporate simple movements. They even have a number of curricular resources to help you get started. Even better, it's free!
Mindfulness Meditation Apps for Older Students & Adults
Headspace is an online platform that offers a variety of mindfulness resources and activities. Teachers and support staff can create a free account, and find self care resources, as well as mindfulness tools to use with your students that are around elementary age and up. In addition to exploring specific categories like meditation, breath-work, focus, and managing stress and anxiety, the platform offers mini courses to help in areas like self-growth and dealing with emotions, as well as movement and healthy living.
​​The Calm app provides a wide variety of digital mindfulness activities focused on reducing stress, increasing resilience, and promoting self-care. The platform offers calming music, scenes, and guided meditations, all which you can use to encourage students to become more aware of what they are thinking and feeling or to promote a sense of mindfulness before engaging mentally in class. To get started, you can check out their free resources: 30 Days of Mindfulness in the Classroom resource or the Self-care Guide for Teachers. 
Mindfulness Tool for the Christian Teacher
If you are a Christian teacher, then mediation on Scripture might also be important to you. The Abide app provides calming Biblical mediations to start your day and sleep stories to calm your mind at night. I personally use this app every day in my own meditation practice to not only develop a sense of mindfulness, but also strengthen my relationship with God.
Try Mindfulness Practice in Your Classroom Today!
These resources for mindfulness in the classroom can help guide students (and you!) as they develop mindfulness and help them learn how to be more sensitive to their thoughts and feelings. These are key skills to possess in our fast-paced culture where it's often too easy to become distracted and overwhelmed. Employing these tools with your students can help model for them how they, too, can use digital tools intentionally and even in ways that support their mental and emotional health. Plus, it can bring a sense of calm, focused mindfulness to your classroom.
Have a mindfulness practice or tool that works well for you? Please share in the comments!
---
Want more ideas for finding balance in your teacher life?
Learn some great self care tips for teachers in my post "Teacher Self Care" or check out my free resource Summer Treat Yo Self: A Fun Choice Board for Teachers in my TPT store!