While learning how to set goals is an important part of growing up and achieving our dreams, many of our students lack the skills they need to set and attain goals. Similarly, teachers sometimes struggle with how to teach students to consistently and effectively set goals during normal times . . . not to mention that we are currently in the middle of a pandemic! Why should we continue goal setting with students during these unprecedented times?
Students in the Driver's Seat of Their Own Learning
As an educator, this school year has likely been your most stressful yet, and it really has just begun! Whether you are in a hybrid or virtual learning environment, you are likely navigating previously uncharted territory. You are persevering and overcoming obstacles that come up almost daily. From planning your schedules and imagining how a virtual day will look for students to structuring routines for including ALL students EVERYDAY, many of you are stepping up in ways that we may have never imagined we would! However, even with the best laid plans, we may encounter challenges that we did not anticipate. Luckily, most of us have skills to help us take action when things go awry. But what about our students?
If you are like me, you have noticed that this shift to virtual and/or hybrid learning has caused students to struggle as they grapple with taking more responsibility for their own learning. In the past, when students struggled we could see it . . . we could provide scaffolds in class or monitor and adjust our lessons in real-time. However, when students are learning from a distance, we might notice them struggling, but we can't always know exactly what they are struggling with. This may be causing you new frustrations as you wonder how you can prepare students for the responsibility they need right now. You can be reassured, though, you are not alone!
As a digital learning coach, a big part of my job is supporting teachers and students in using technology in a way that enhances their learning. With my local school district moving to a hybrid and virtual model, many of the students I work with are finding themselves being forced into the driver's seat of their own learning and are struggling with this new level of responsibility. I've found myself not only helping them with tech but also addressing their challenges around virtual learning and empowering them to overcome those challenges and develop themselves into successful learners.
On the Road to Learners with Agency
The most successful learners that I work with are empowered with learner agency. According to educator and author Barbara Bray, learners with agency are able to take ownership of their learning, including knowing themselves as learners, assuming responsibility for obtaining knowledge, setting goals and action steps for learning, selecting the appropriate tools and resources for tasks, self-directing and monitoring their progress in learning, and reflecting on and providing evidence of learning.
Since my goal is to help make all students successful learners, I've partnered with some teachers in my district to provide support for their students in navigating these new routes, I coach them in goal-setting and planning to help them stay on course. Borrowing from my state's Learning Independently Competency for personalized learning, I have been working with students to help them set goals, make a plan to reach their goals, monitor their progress along the way, and take strategic action when challenges arrive. Here are 6 goal setting activities for students that can help them on the road to being successful learners!
6 Activities for Goal Setting with Students
1. Set Goals
Most successful learners know the importance of envisioning their long-term goals, from achieving a certain GPA and getting into their preferred college, to gaining work-place skills and landing the perfect job. However, under the stress of our current circumstances, setting and recording short-term goals for getting them through the week or day–or even the next hour–are just as crucial for our students. A great place to start with goal setting with students is with this simple goal setting work plan that includes guiding questions to help students set their goals.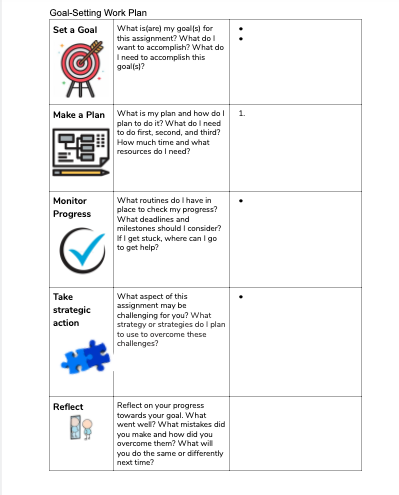 2. Map Out a Plan
Successful learners know that mapping out a plan to help drive a goal is just as important as setting the goal itself. Students need to plan action steps towards accomplishing their goals, including breaking down tasks and planning for the tools and resources they will need. Students can use Google Drawings or Slides for goal setting and vision boards to help them set a purpose, visualize their goal, and brainstorm strategies and steps towards their goal. Learn more about using Google Slides for vision boards from Shake Up Learning's Kasey Bell.
3. Monitor Progress
To help them stick to a plan, successful learners set checkpoints to monitor their progress, including milestones and deadlines. Students can use supports like this Daily Assignment Tracker or Daily Schedule for scheduling the various checkpoints and deadlines for finishing tasks and ultimately reaching their destination.
4. Anticipate Roadblocks
Successful learners can anticipate roadblocks that may prevent them from reaching their goals and have strategies to help them get back on track. Teaching students to take strategic action to overcome challenges is an important part of reaching their goals. With this online learning plan from Isabel Morales, students not only make a plan, but break down challenges and brainstorm solutions.
5. Reflect on the Journey
When they reach their goals, successful learners don't hit the brakes! They not only reflect on what they learned and their progress towards their goals but also what mistakes they made and how they overcame them. Providing opportunities for reflection, encourages students to think about their learning, as well as what they can improve on–all important steps in fine tuning their goals on the road to learner agency!
6. Take Time to Enjoy the Ride
Finally, successful learners also know they need to carve out time for themselves and enjoy the ride towards reaching their goals. Encourage students to keep a healthy balance between school and their personal lives!