This week I'm presenting with Unruly Splats at the Computer Science Teachers Association Conference on a topic that is near and dear to my heart: coding! Actually the presentation is about play in the classroom with Splats, but I found myself thinking of all of the many ways educators can use games and play to increase student engagement and make learning fun!
Why is play in the classroom important for all ages?
When we think about play in the classroom, our minds may oftentimes go towards early childhood classrooms where students explore through centers with dramatic play using costumes and child-sized versions of kitchens and homes. But in her article "Playtime Isn't Just for Preschoolers—Teenagers Need It, Too," Hilary Conklin explains how older students need play, as well. She explains:
Giving students occasions to learn through play not only fosters creative thinking, problem solving, independence, and perseverance, but also addresses teenagers' developmental needs for greater independence and ownership in their learning, opportunities for physical activity and creative expression, and the ability to demonstrate competence.
So allowing students to learn through play has quite a few benefits! Those 21st-century skills like creative thinking and problem solving are so important! But so is fostering student agency by giving them more independence and ownership of their learning!
I know what some of you are thinking . . . "I'm NOT going to let my students just 'play' when I have important content to deliver!" But don't worry, that's not what I'm suggesting! Teachers can incorporate play in a variety of meaningful ways while still teaching the standards and covering their content.
Here are 5 ways teachers can incorporate play without sacrificing content.
1. Gamification:
While it's all the buzz right now, gamification is really just about turning regular activities into games to spark competition, engagement, and motivation. While Matt Miller has some great ideas here, some of my favorites are digital quizzes for turning formative assessments into games. Tools like Quizizz (my fave), Quizlet Live, and Kahoot let teachers gather formative data while students are competing against each other and having a great time!
2. Breakouts:
Another fan favorite, breakouts are also a great way to incorporate play, promote problem-solving and critical thinking, and get students to apply their knowledge in a variety of ways. "Breakouts" take the concept of escape rooms (you know those places where you and your friends are willingly locked in a room and have to solve clues to escape it?) and brings it to the classroom! Usually, students solve clues to unlock locks attached to a box to save the day, solve a problem, or just get the surprise inside!
You can learn more about how I use breakouts from my posts ENGAGING STUDENTS WITH BREAKOUTEDU and DIGITAL BREAKOUTS DURING THE TIMES OF SOCIAL DISTANCING.
3. Board Games
Do you ever wonder if students even play board games anymore? Well, now you can make sure that students get the knowledge from the content you teach and learn how to play a good, wholesome, old-fashioned board game! The simplest way to do this is to give student pairs or groups questions, either electronically or on paper, and have them take turns answering. If a student gets it right, they get to take a turn; if they don't, they miss their turn. You can provide an answer key or just require that students come to a consensus. You can check their work later and provide feedback. This could work with almost any board game, but I have seen it in action with Connect Four, Operation, Yeti in My Spaghetti, and Jenga. Jenga is actually my favorite. You can make it extra engaging by using the colored sets and providing a game board with questions.
4. Minute to Win It
Last year before Covid, I had a teacher ask me to help facilitate her Minute to Win It challenge for her algebra II class. I had never actually watched the show, but quickly caught on to the premise: students took part in a series of 60-second challenges that use common house-hold objects. But this game had a twist . . . before each challenge they had to complete a brief Quizizz and get a certain score in order to compete. Some of the challenges included moving an Oreo from their forehead to their mouth only using facial movements, juggling 3 balloons without letting any of them hit the ground, and skewering penne noodles with a piece of spaghetti only using their mouth! Needless to say the class period teetered between thoughtful problem solving and all-out hilarity!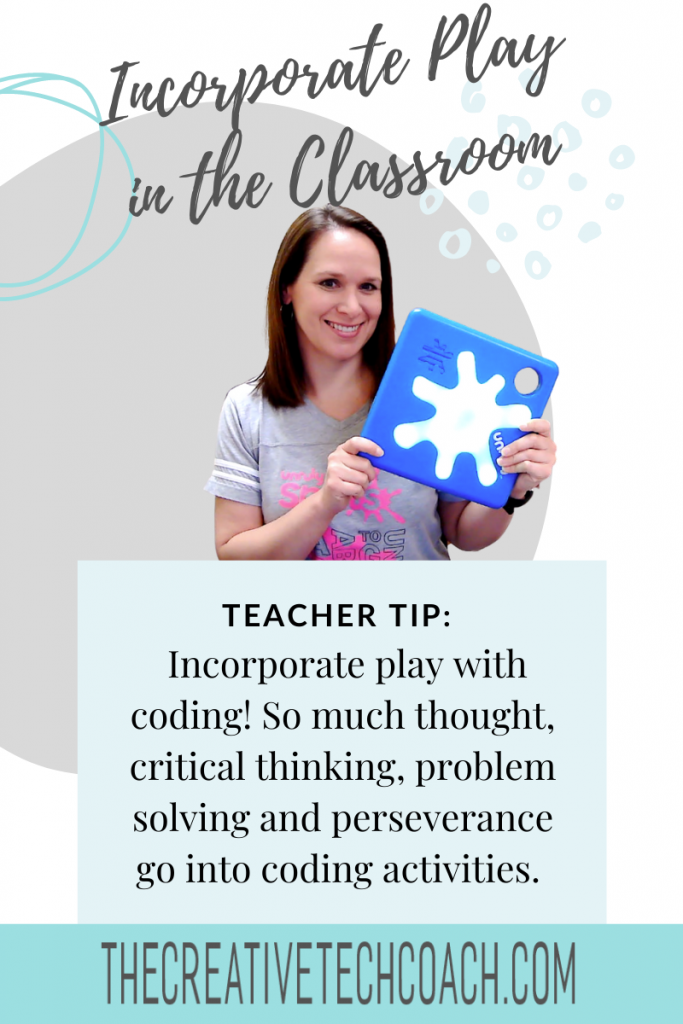 5. Coding
Finally, my favorite way of incorporating play into the classroom is with coding! So much thought, critical thinking, problem solving and perseverance go into coding activities. With my youngest students, I start with simple block coding using Osmo and Cubetto. As students get older, I introduce them to Ozobots (color coding), Scratch, Jr. and Scratch, Dash and Dot, Tynker, code.org, and more! Sometimes in the media center, students just engage in the act of coding, but in classrooms, I work with teachers on connecting coding activities and content to help students demonstrate their knowledge in innovative ways! Here recently, I discovered Unruly Splats, which incorporates block coding, play and physical activity! It is currently my favorite coding platform! Grab this engaging and collaborative intro to Splats and check out all that Unruly has to offer!
Share in the comments the ways you incorporate play in your classroom!